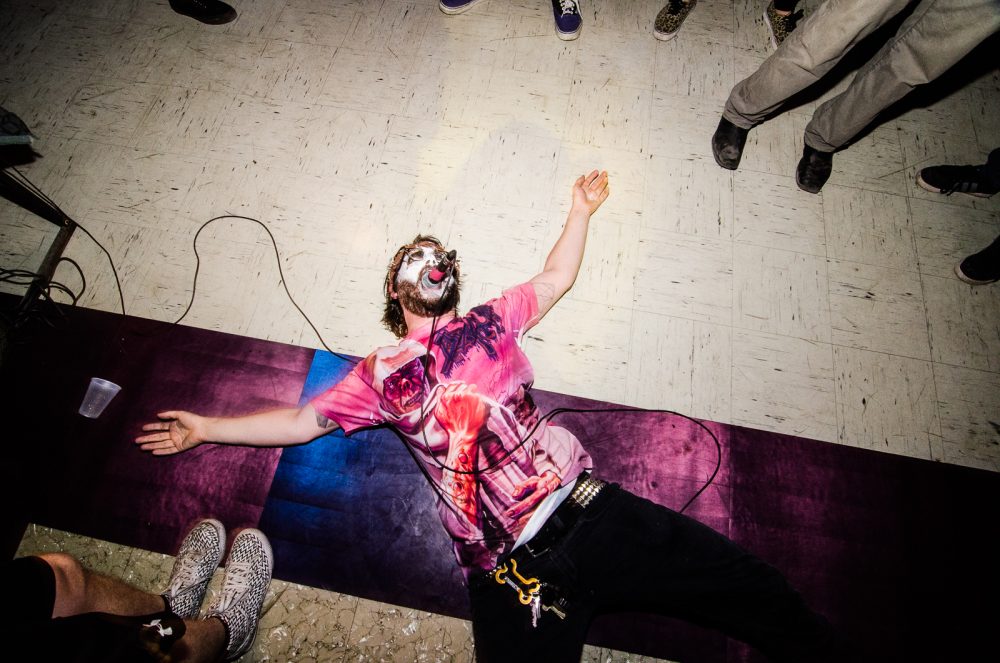 Club Mutant was an underground party that Door did at America, with noise/electronic/avant artists, but (as I recall) this night was a collaboration with Mark Brown, Schwarz (who is now known as So Drove) and Cex who had done a variety of dance parties in the past. This was at the Paradox, and apparently I photographed this for Noisey, Vice Media's music vertical which no longer exists. The article doesn't seem to be online anymore, sadly. Hopefully I got paid!
This was a fun night that I remember pretty well because it was such a cool mix of artists and genres – the kind of genre mixing event that Baltimore has always done so well. Soft Pink Truth (aka Drew Daniel) had just released the Why Do The Heathen Rage? album, which was a Black Metal re-interpolation, so he was in full SPT/Black Metal regalia and some metal friends were here for that. Baltimore Club innovator Blaqstarr DJed along with Shawn Smallwood and some others. Shams performed. Gabber Blood Rave artist Kilbourne DJed along with the Schwarz.
This night was also funny because one of my friends disappeared and we thought he had just caught a taxi home, but then it turns out he fell asleep in the Paradox and woke up when the janitors were cleaning up – at like 9am!
If anyone reading this has any memories, details, flyers, etc to add to this, feel free to comment below, or @ me and I'll add them. I'm "joshsisk" at IG/Twitter/BlueSky/Threads/whatever dozen other new social media sites have been created in the time it took me to type this.